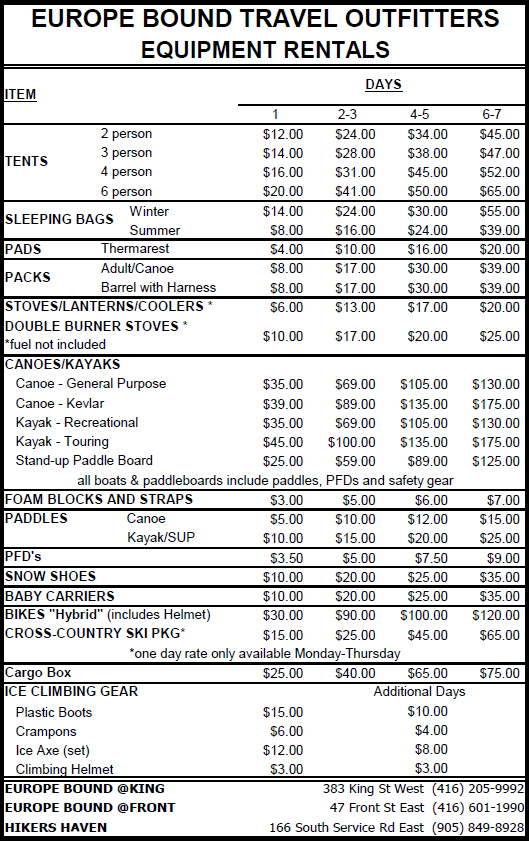 Rental Rates
Rental rates are for days out of the store; usage and weather are unrelated to how much we charge. Extra charges begin the day after the last day of the rental period. Long weekends are charged at the 4 - 5 day rate.
Rentals returned late will be charged the one day rate for each day late.
Reservations: It is best to reserve 4 to 5 days before the pickup date. You may reserve by paying the amount of the rental in advance. We take phone reservations with Visa, Mastercard or American Express. Canoe reservations are done in store only.
Deposit: If, when reserving your equipment, you have made a deposit but do not take the equipment we held for you for the rental period, the 1 day rate is charged. All deposits by charge or cash only.
Cancellations: Cancellation of a weekend reservation must be by the Thursday before the weekend. Please notify us before Thursday night store closing. Cancellation for any other rental period must be made by store closing of the day before the first day of the rental.
Equipment Returns: Equipment must be returned dry and clean or a $35/ hour ($10 min per item) service charge will be applied.
Credit Toward Purchase: The price of one day's rental will be deducted from the purchase of the same product.
Rental Locations:
Toronto: 383 King St West (416) 205-9992
Oakville: Hikers Haven 166 South Service Rd East (905) 849-8928
Europe Bound Bike Services
Europe Bound operates a full service bike shop at our 383 King St West store in Toronto. Minor repairs to a full overhaul can be done in a cost effective manner.
Contact the bike department at 416-205-9992 for a complete description of services and fees.